I'm a fan of the
Raintree Nursery Online Store.
They have an amazing catalog of fruit plants. Their website is easy to navigate and super easy to order from. And from the previous orders they are quick to ship as well and the plants show up strong and healthy.
Raintree Nursery
391 Butts Road
Morton Washington
United States 98356
1-800-391-8892
1-800-391-8892
Lucky for us they are located in the Washington State. From the Seattle area it takes a bit more than 2 hours to get there, so pack a lunch.
I expected to see a massive greenhouse similar to
Flowerworld
but unfortunately because their business is mainly online the majority of their plants were in cold storage and only accessible to employees. So the areas that you can actually walk around were pretty limited to the one greenhouse and the front property.
They did have one greenhouse that housed their smaller fruits and FIGS!!! I was very excited to see the selection and pick out my own tree. I was in the market for a Mary Lane fig I but because I have weakness for figs I also ended up walking out with 2 others, Flanders and Panache. I've been resisting buying Panache, since I prefer to buy figs based on taste and not just how cool it looks. Oh well I figured I wasn't going to make this trip too often. Most of the prices were in $20s which is a great deal.
It was easy to fill the cart inside of the greenhouse. We ended up getting some goumis, pomegranite and gooseberries as well.
Even Blake got into it. He was checking out there huge catalog.
"Hmm I wonder if they have that cotton candy grape?"
This is what made the whole trip worth it. The bargain $5 dollar bins!! These were less than perfect trees that were sold for a heavy discount! They ranged from Apples, plums, peaches, nectarines, pears and more. Between my brothers and I, we probably ended up getting about 20 different varieties.
There was also a little store with great prices on things like fruit socks and impress o tags that were $5 cheaper than online.
However, if you wanted certain varieties you would have to request them from the cashier and the bare root plants would be brought straight out to your truck.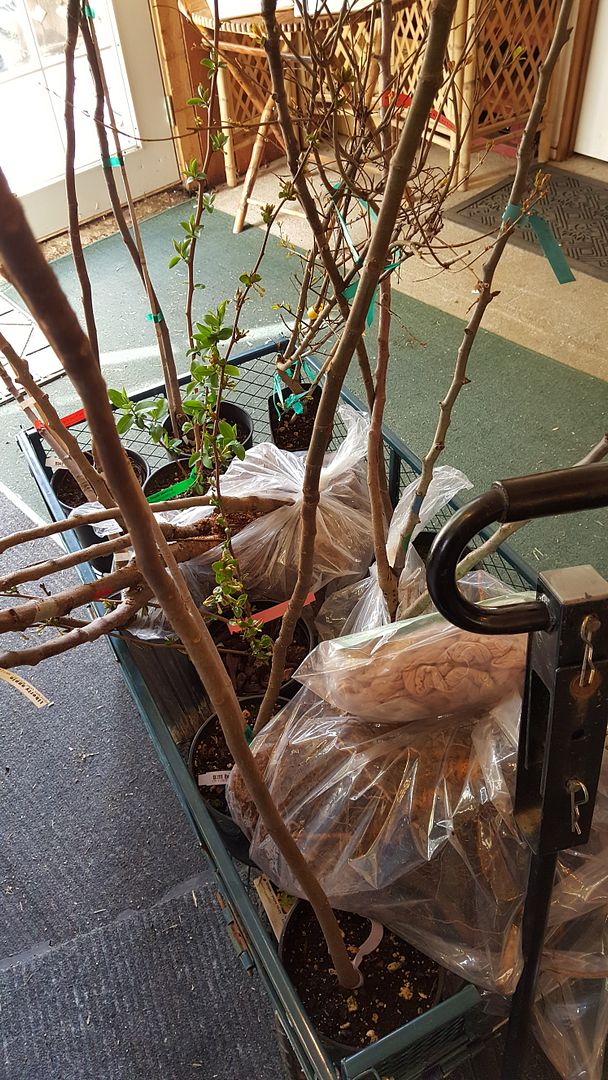 Now all we have to figure out is where to plant all of our new tress. LOL.
Bye bye Raintree it was fun to visit, see you online.
All that fruit tree buying can make one hungry and it's time to get some grub, we ended up at the local restaurant
Rambling Ribeye.
Update: 3/21/16
Here are the varieties that I scored from Raintree.
Update: 4/15/16 Looks like everything has woken up from dormancy except the raspberry red nectarine.