Since the beginning of summer I've driven by this beautiful fig tree in my neighborhood almost everyday. Each time I wonder about the variety that it might be. It certainly was not a desert king which we have an abundance of here in Seattle. It did not have the leaves like a brunswick. The leaves were also not thick like the italian honey. So I waited patiently to see if and when the fruit would ripen. It's very difficult to tell a fig variety from the leaves alone.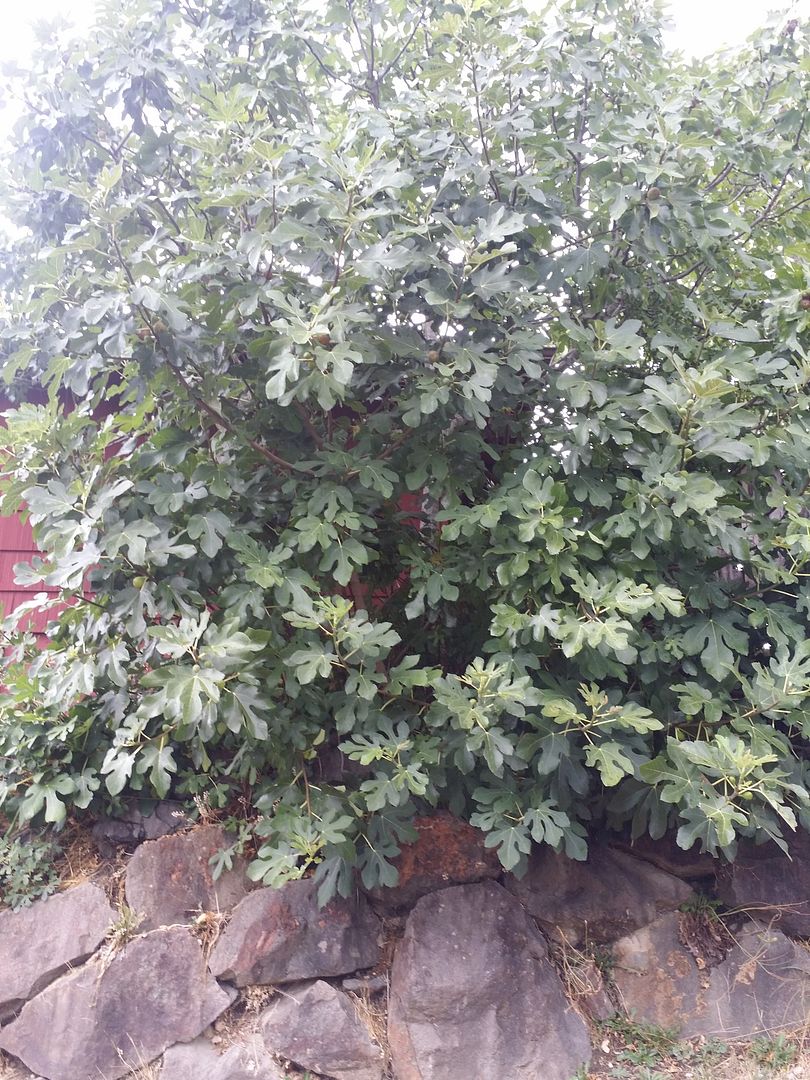 The tree looked so healthy and lush. Probably because it was planted in the best possibly place you can put a fig tree. Above a large rock wall, southside, and in front of the house's south wall where it gets heat from the sun and the rediated heat of the house. Figs love their roots to be somewhat restricted, so growing on top of the rock wall is more than ideal for it. For some reason or another restricting the roots helps it to set more fruit.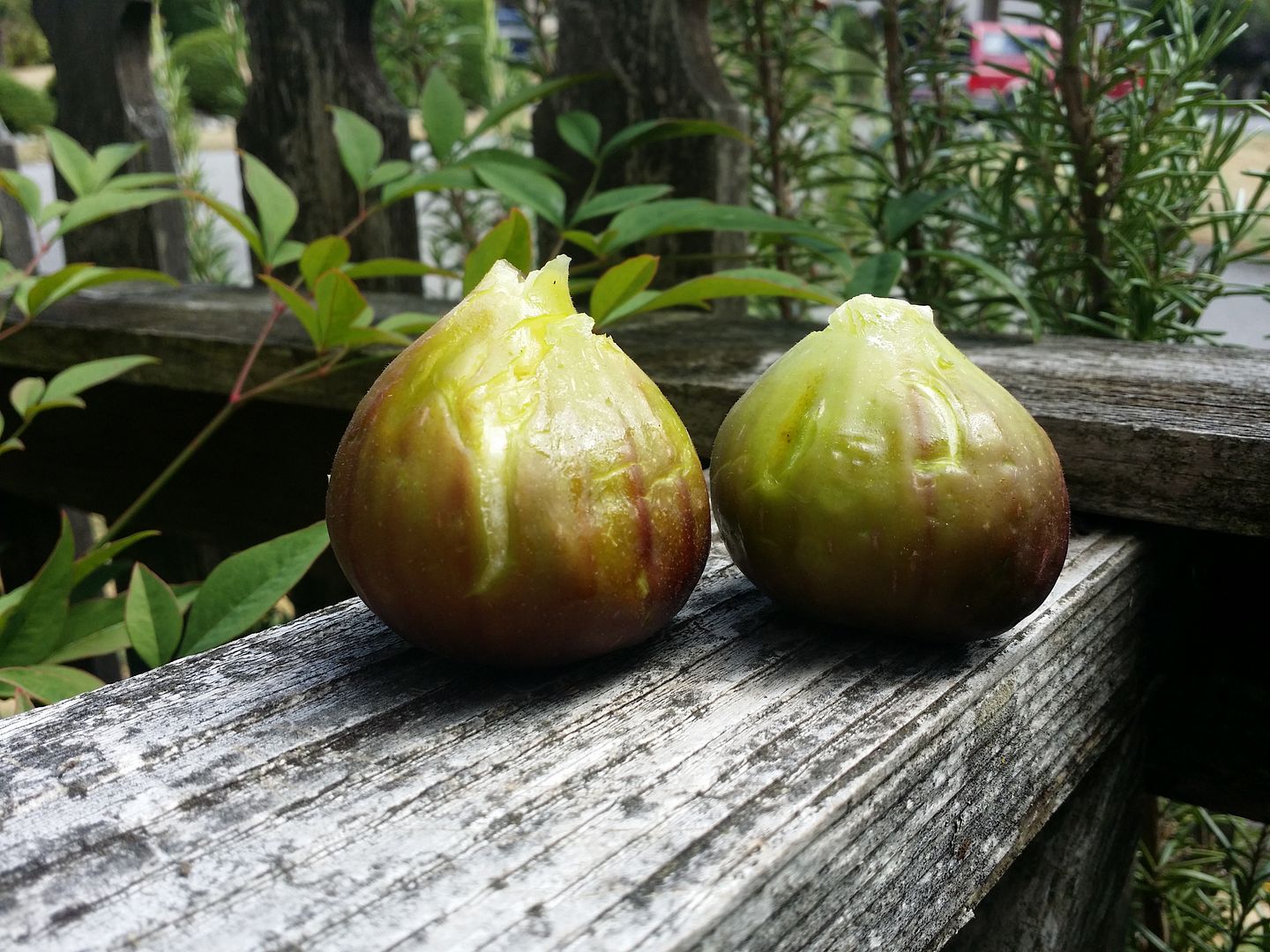 The other day after a strong rain I noticed that the figs were ripening. It just so happened that it was the same day I was getting a visit from 2 of my fig forum friends
Slavi
and
Kiwibob
. After a tour of my fig collection, I took them for a short field trip to visit the neighborhood tree and meet the owner. His name is Phil.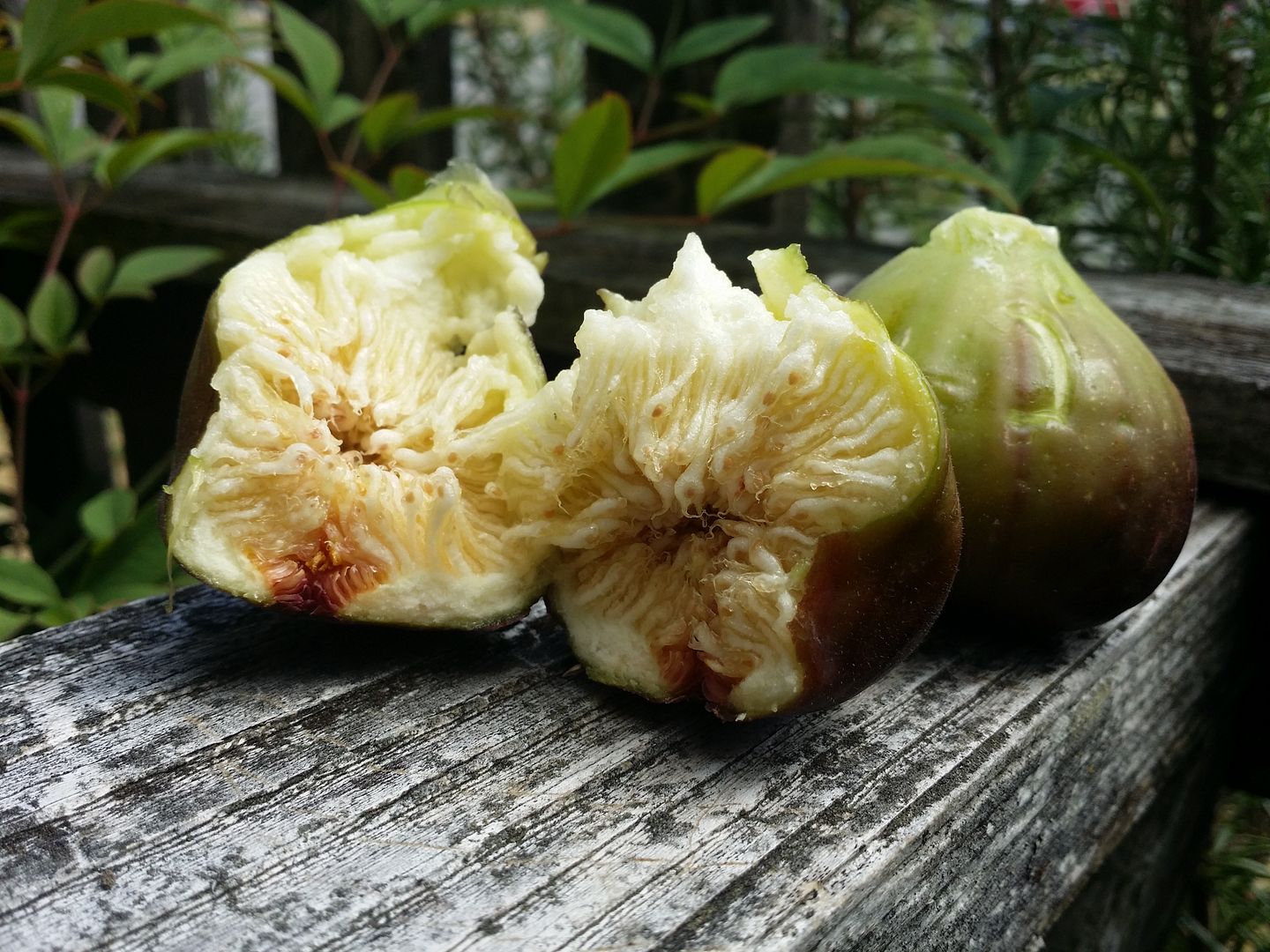 We introduced ourselves to Phil. Phil is great guy & super friendly. While telling us about the tree he was nimble enough to climb into it and pick us some ripe fruits to eat. He told us that he had no idea what variety the tree was and that it had been at the house since before they even moved in 12 yrs ago.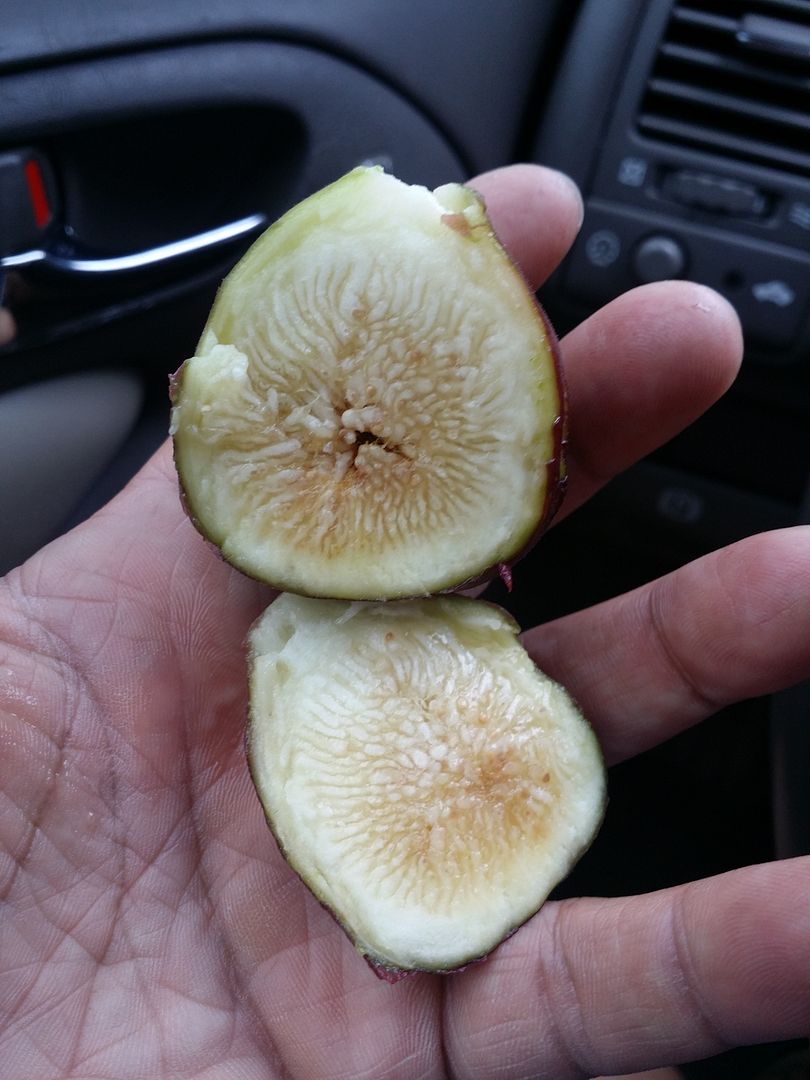 Turns out the the tree had been there since 1970s. They had cut it down a few times but the sucker growth was extremely persistent and they let it grow to 3 main trunks.
My initial guess was that it was a Brown Turkey but after cutting into the fruit, the interior was honey colored vs red violet.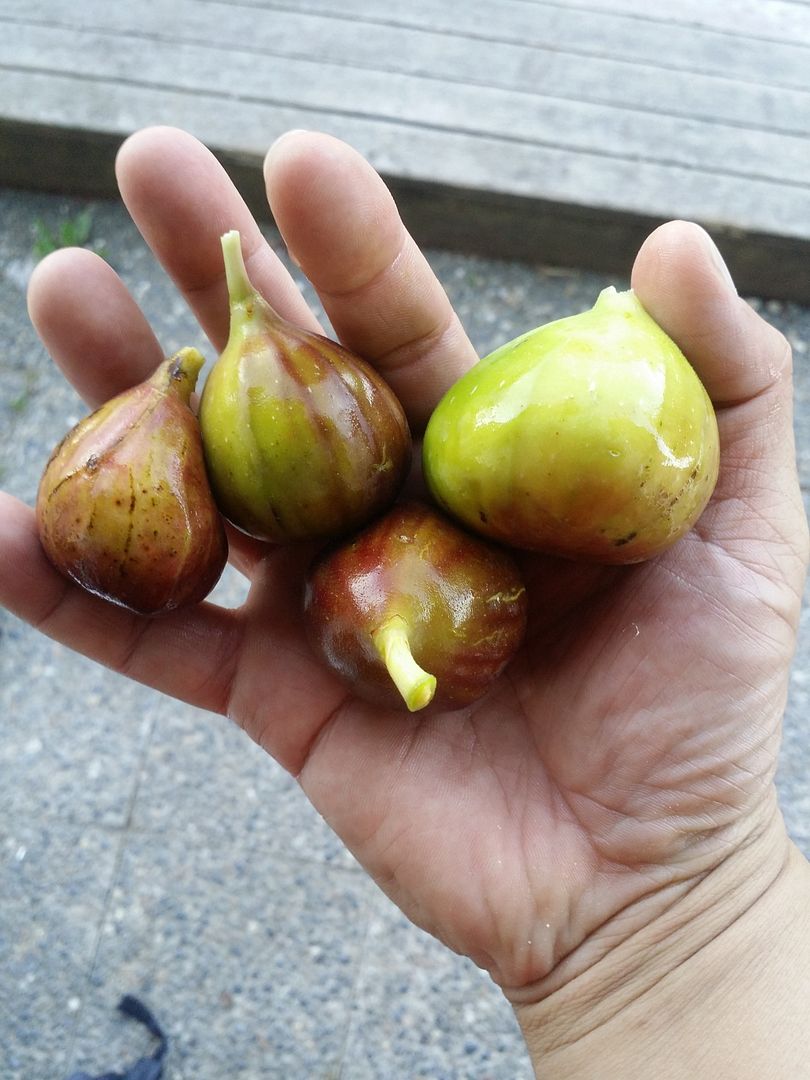 The taste was fluffy and midly sweet. Very meaty with little seed crunch. I found it to be delicious! It was not figgy like the Gene's Vashon but very enjoyable. The more figs I get to taste, the more I lean to meaty fluffy figs than the overly ripe, jammy and sweet figs.
Upon closing our conversation with Phil, he was also kind enough to let us have a few root suckers to bring home. I can't wait to grow my own Osborn. The funny thing is it's been on my wishlist all year! Thanks Phil I'm a happy man! The favor will not go unreturned.
This our portrait in front of the beautifully tree.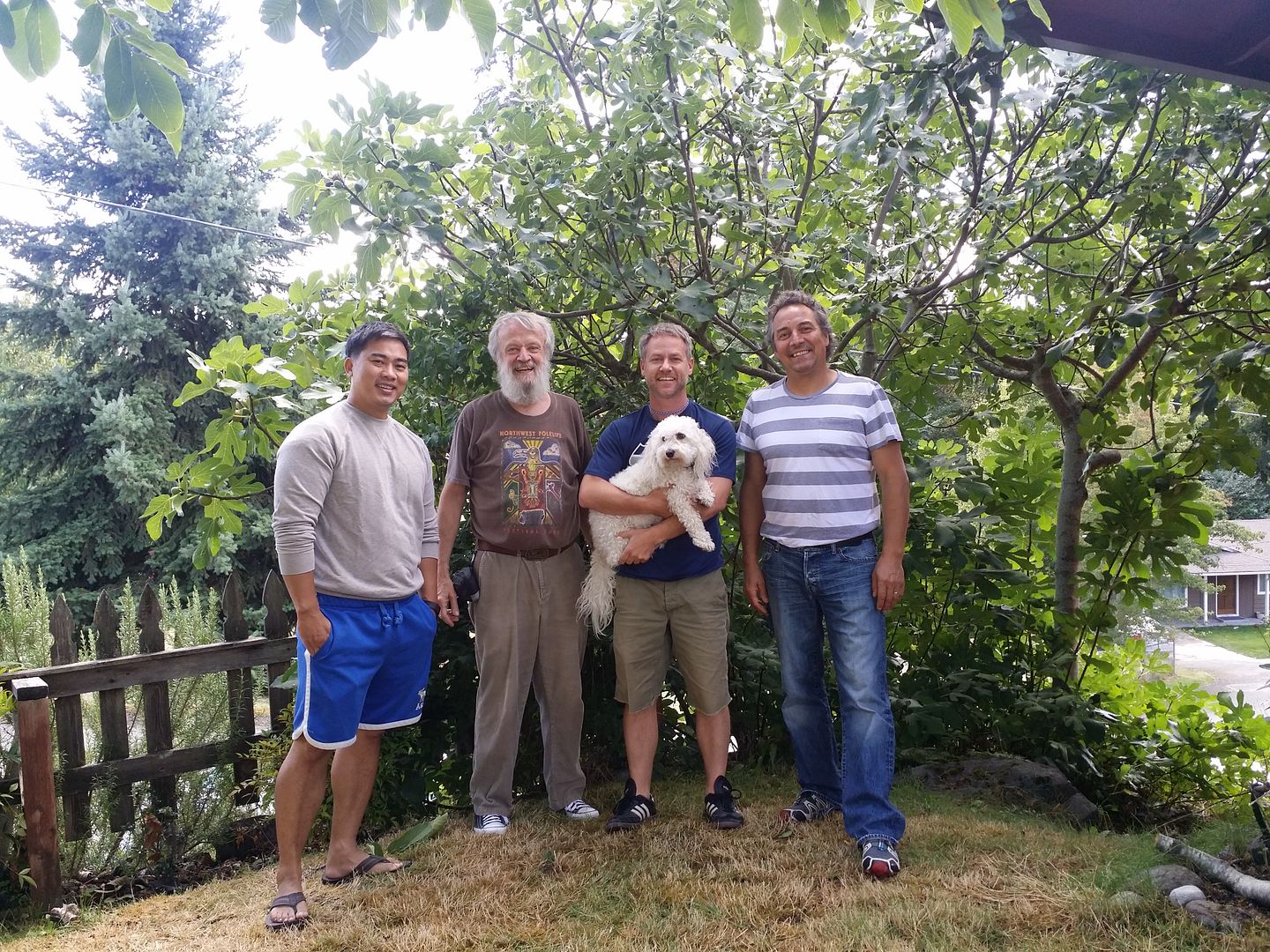 Me, Kiwibob, Phil, and Slavi
after some further research this could be a Beall.